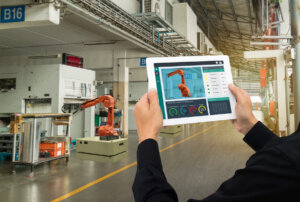 Sage 100 supply chain automation is one aspect of business process automation, a process by which formerly manual tasks are automated to make them easier, faster, and more efficient. It's not a new concept—consider the original manufacturing centers, the textile mills of the Industrial Revolution. By automating the "business process" of weaving cloth on looms, these factories were able to produce cloth faster and less expensively than laborers working on hand looms in their cottages.
Now, your manufacturing business has come a very long way from the days of the industrial revolution, but the overarching concept is the same. With Sage 100 supply chain automation, you can improve back office and warehouse automation and see the value for yourself.
Back Office Automation
Back-office automation may include such repetitive tasks as tracking time sheets, routing information for approval, filling in forms, AP automation, and updating reports. With Sage 100, you're able to automate many repetitive back-office tasks for considerable time saved.
Warehouse Automation
Warehouse automation conjures up news stories of large, international shippers who add robotics to enormous warehouses. In truth, warehouse automation can be simpler and smaller. All business process automation should be tailored to the end-users' needs, and warehouse automation is no exception.
A good place for warehouse automation includes any high-volume task where humans performing the task would be too costly. Changing your system over from manual inventory to barcode scanners and automated inventory tracking is such a task. It is made much easier with warehouse automation tools that integrate with Sage 100 such as Scanco.
Where to Begin Your Supply Chain Automation Journey?
Start by choosing one process to automate at a time. If you try to do too many at once, it can quickly become overwhelming.
Next, involve your team in the software selection process. Any employees who directly interact with aspects of the supply chain should be part of the software selection process and help identify which business process to automate.
As a third step, research and select the right automation tools. We like the tools found within Sage 100 and find it a robust ERP platform for many of our customers, but we encourage you to sit down with your selection team and create a list of criteria for an ERP tool. Then, your research can focus on matching features of each ERP platform to your needs list to ensure a good match.
Lastly, after selecting your platform and process to automate, set measurable goals. You must measure the impact in order to gauge the success of your project.
Supply Chain Automation with Sage 100 and Scanco
Supply chain automation begins with the right platform. Sage 100 offers numerous integrations, including Scanco inventory software and scanner software, which can help you integrate many aspects of your supply chain. Through this integration, you'll be in a much better position to weather the inevitable disruptions and shifts that occur in any manufacturing environment.
With Sage 100 and Scanco integration, you can:
Automate cycle counting
Immediately access data
Refresh and update warehouse and supply data
Additionally, this information makes it easier to communicate order information and changes throughout the supply chain.
Sage 100
Learn more about Sage 100 and Scanco. Read about successful businesses who implemented Sage 100 and the challenges they overcame.
Emerald TC
Emerald TC provides software and consulting for manufacturing companies. We can help you choose the right ERP system for your needs and offer Sage 100 and other software packages for every type and size manufacturing company. Contact us or call 678-456-6919 for more information.