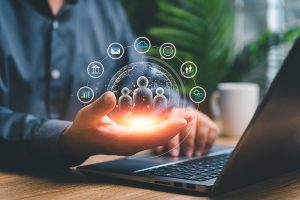 A business's customers are its lifeblood, and Sage CRM software makes managing them easier. No matter how good your service or product is, if you don't have customers, you won't succeed. You need to attract and keep customers, no matter what kind of business you run. This is exactly why customer relationship management software, or CRM, exists.
A recent report by Grand View Research estimated that the CRM market would see an annual growth rate (CAGR) of 10.6% from 2021 to 2028. SaaS is on the rise, and companies still relying on legacy solutions will find it increasingly difficult to compete. There is no better time to implement CRM software than now.
So, what exactly is CRM software, and how do you choose the right one? Here's a breakdown of what you need to know.
What Is CRM Software
A Customer Relationship Management system, also called CRM software, manages prospects, contacts, accounts, and cases of customers. Any organization can use this powerful tool to enhance its customer service. You benefit from better customer service since happy customers lead to higher sales. Your bottom line will improve when your customers are happy.
Your CRM software should take you through the entire customer lifecycle, from collecting leads to qualifying them and converting them into customers. You store all customer data there so that you can provide support to customers throughout their relationship with your organization. It gives you access to valuable information, including contact information, lead information, quotes, requests, and emails.
4 Must-Haves That Make Sage CRM Right for You
The following four features are essential for a CRM to be effective for your company.
Integration with Cloud-Based ERP
Using a CRM integrated into a cloud-based ERP system like Sage is easier to manage and more cost-effective than a standalone CRM.
An integrated CRM/ERP solution can manage, synchronize, analyze, and distribute accounting, sales, manufacturing, distribution, field service, construction data, and more in real time, eliminating the hassle of syncing data and other complex integrations.
Complete Customer Data
An integrated database enables employees across the organization to view all customer records and activities in a consolidated way, including information such as:
Written quotes
Invoices
Support cases
Additionally, you can track campaign expenses and revenue, display lead analysis, and lead response time metrics. You can also track marketing email statistics such as click-throughs, opens, and unsubscribes.
You should be able to respond quickly to customer requests, including forecasting and demand planning, with your Sage CRM. Using it will also make it possible for you to easily share information with all members of your team.
Integrated Sales Quotes
It is possible for users to create multiple quotes for the same opportunity using CRM/ERP integration. A sales order and invoice can be created as soon as an offer is accepted. This is a simple process when inventory, costs, and prices are derived from ERP data. Contact addresses can easily be moved between business accounts and contact forms.
A Customer Support Portal
These days, most goods and services are purchased online, so having a great customer support portal is essential. To meet your customers' needs, your portal should include account management, shipment tracking, support, ordering, and more.
Sage CRM Is Your Must-Have CRM
The right CRM can transform your business. Sage will tailor your CRM to meet your needs so it's ready to grow as your company grows. No matter how far apart your team members are, they can all connect and work more efficiently using Sage CRM. Reach out today, and we'll help you get started.