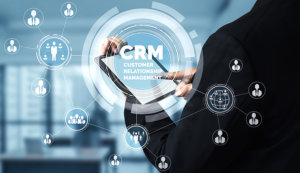 Sage CRM solutions offer powerful customer communication management tools integrated with Sage's expert operations, business, accounting, and finance software. But what if you're on the go? What if your team includes field sales or mobile teams that must connect with the CRM system?
For those who love Sage's functionality but need CRM solutions to be as mobile as their teams, there's an option that many business owners don't know about. It's sort of a "best-kept secret" —but we don't want it to be a secret anymore.
It's MobileX from Sage partner CRMTogether, and it's a great addition to your Sage platform.
What is CRMTogether MobileX?
Among the various CRM solutions, Sage CRM works seamlessly with Sage 100, Sage 500, and other Sage products. However, it has its limitations. Remote salespeople and mobile technicians must wait until they return to the office to access Sage CRM. You cannot customize it like you want to and sending emails through the CRM must wait until you're at the office. It can be frustrating!
CRMTogether works on various solutions for Sage products and was developed by MobileX when customers clamored for CRM solutions. The result is a third-party application that makes Sage CRM mobile!
Benefits of CRMTogether MobileX
With CRMTogether MobileX for Sage CRM, your company can:
Access and use Sage CRM features from any Android/iOS phone
Log phone calls, emails, and notes while on the go
Navigate across multiple entities or focus on a single one using just one search
Compose and save emails right in Sage CRM through Mobile X
Create new records
Add people, update account information and contact information, and more
Send contextual notes within the app to other Sage CRM users
Use Office 365 integration and all the tools you love in Office products
CRM Solutions for Sage CRM: What Can Your Company Do With It?
When it comes to CRM solutions, MobileX for Sage CRM offers so much more than access to the basic Sage CRM system. Consider the following scenarios your company may experience and how helpful it would be to have MobileX:
A salesperson visits a customer's manufacturing plant and receives a complaint from their procurement manager that they never receive your company's emails. A quick check using MobileX for Sage CRM reveals the customer's email address was inputted incorrectly into the CRM. A digit was transposed on their account. A quick fix while sitting in the procurement manager's office saves the day. The next day, a sales email sent to the same customer yields a large and profitable order.
Field service met with a customer who needed a repair on equipment your company provided. The customer indicated the equipment should still be under warranty. A quick check using MobileX for Sage CRM revealed the warranty was effective and the customer was delighted to know their repair would be covered.
Creating cases from emailed support tickets was laborious and time-consuming until the use of MobileX. A customer found the integration with Office 365 enabled them to easily important Outlook emails and work with the information inside the CRM system.
These are just a few examples of how MobileX can benefit your business. If you love Sage CRM but experience frustration using it without a web interface, your problems are solved.
To learn more about MobileX from CRMTogether, contact Emerald TC. Contact us or call 678-456-6919 for more information.