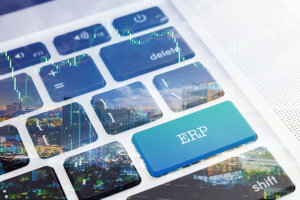 The business world has changed rapidly over the past two years as companies adapt to new consumer behavior, supply chain issues, and employee expectations. Let's take a look at small business trends for 2022.
3 Important Business Trends
According to the Small Business Administration, several trends dominate 2021 and are likely to continue into 2022. These trends include:
Moving to e-commerce and virtual delivery of services
Alternative payment and delivery methods
Continuation of remote work
E-Commerce and Virtual Delivery
According to IBM estimates, the pandemic has pushed the shift among businesses toward an e-commerce model ahead by approximately 5 years. What this means is the estimates IBM came up with for how many companies would adopt e-commerce models five years from now is already happening. That's mind-boggling when you think about it. But what does it mean to your business, and how do ERP trends coincide with this business trend?
First, let's unpack what it means to your business. If you're not offering an e-commerce model, it's time to rethink that decision. Even businesses that once swore their operations could never move to an e-commerce model are finding clever ways to offer touchless and contactless deliver. Doctors are offering virtual telemedicine, banks are offering virtual consultants for private banking services, and restaurants are offering online ordering with fast, drive-through style pickup.
For manufacturers, distributors, and similar businesses, shifting to an e-commerce model means making it easier for your customers to place orders and find what they need on your website. Cloud ERP has been a trend for several years in the software world, and it offers many potential benefits to distributors and manufactures shifting to an e-commerce model. For example, cloud ERP enables manufacturers to connect to many popular e-commerce platforms. Even companies offering custom manufacturing have found ways to align their ERP systems with e-commerce platforms for seamless delivery of goods.
If you haven't shifted to an e-commerce model or your current e-commerce model needs an update, it's time to prioritize around this need. It's a trend that's here to stay.
Alternative Payment and Delivery Methods
Coinciding with the trends toward e-commerce and virtual services is the need for alternative payment and delivery methods. As we mentioned, businesses who once thought they could only offer services in person, such as restaurants, are finding new ways to deliver services.
The same goes for payment methods. Companies are finding they need to accept all methods of payment: credit cards, PayPal, e-check, and credit terms through their e-commerce portals.
Fortunately, ERP systems offer excellent flexibility when it comes to aligning and connecting with multiple payment gateways. Today's ERP can connect with your e-commerce platform and payment gateway, allowing customers to choose their payment method and check out without a problem. Avalara AvaTax connects to multiple ERP systems to help you manage sales tax collection and reporting. Other software products can connect to your ERP to offer additional solutions, including shipping management, document management, and more.
Remote Work
Another major business trend that coincides with ERP trends is remote work. The pandemic forces many companies to ask their employees to work remotely. Some companies found that the transition was seamless thanks to cloud ERP.
Cloud ERP offers an easy way to streamline business information even when employees work remotely. Through cloud ERP, employees can access real-time data whether they're working in the company's offices or from their kitchen table.
Both Sage and Acumatica offer cloud solutions that can make your company's operations, accounting, and finance run smoothly, no matter where your employees are located. Among ERP trends, cloud ERP is one that's not just continuing, but growing.
If you'd like to learn more about Avalara, Sage, or Acumatica software, visit our website. Or make an appointment for a consultation if you have a specific business problem you need to solve.
Emerald TC
Emerald TC provides software and consulting for manufacturing companies. We can help you choose the right accounting software, ERP system, payroll, or other software for your needs. Contact us or call 678-456-6919 for more information.