Sage Production Management gives discrete make-to-stock manufacturers and fabricators the tools they need to achieve end-to-end visibility into their entire production process.
Increased Reporting Accuracy
Sage Production Management allows you to track costs beyond a bill of materials.  Accurate, real-time reporting allows you to track costs relative to budget and then make quick adjustments to inventory, materials, and processes. Support for labor tracking and other job-related elements gives you a complete picture of costs.
Up-to-Date Progress Reports
Real-time visibility on item status lets you know where you are in the supply process and enables you to keep your customers current with the progress of their orders. This improves customer satisfaction by supporting accurate expectations.
Inventory Management Optimization
Integrated inventory management controls allow you to minimize or eliminate the risk of errors from exporting sales order and spreadsheet data, and manually creating purchase orders is no longer necessary.
FREE Online Module Match Tool
Not Sure if Sage Production Management is right for you or which modules you need? Use the free online Module Match Tool. In just a few clicks, you'll know which solutions are best for your business! Start Now!
Sage Production Management is Available on the Sage Marketplace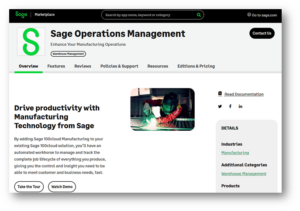 Extend the power of Sage 100cloud, grow your business, and make life easier with lots of connected apps. Get solution information and access to Sage Production Management, IRP, and Shopfloor add-ons right from the Sage 100cloud Marketplace!