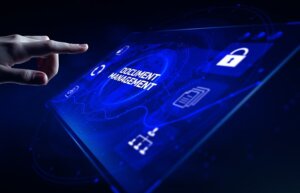 Acumatica is known for adding time-saving features to its platform, but the addition of Acumatica AP Document Recognition is a game-changer.
Starting with the release of Acumatica R2 2020, the popular ERP platform includes Acumatica AP Document Recognition to automate the creation of accounts payable documents in the system.
What Is Acumatica AP Document Recognition?
It is a new, optional feature available in Acumatica R2 2020. If you'd like to use this feature, you must go into Enable/Disable Features > Document Recognition Services and enable it.
Once the feature is enabled, invoices can be scanned by Acumatica's system. You'll see on the screen a copy of the invoice that was attached to the email and the system fields in Acumatica. This allows you to do a quick visual check of the information Acumatica scanned and matched to its system. If you need to make any changes, you can highlight any region on the invoice.
If the system fails to detect any information and leaves the field blank in Acumatica, you can search for it manually to add it. You can also manually add the tax rate and adjust anything in the invoice, as necessary, by highlighting the fields on the invoice. This will enable you to make the corresponding changes in Acumatica.
The validation step—checking the machine learning scan against the fields in Acumatica—is an integral step to the process of using Acumatica AP Document Recognition. Once you're satisfied all the information has been correctly added to Acumatica, save the invoice, and repeat with all the invoices in your inbox.
Three Ways to Add Documents Automatically Into AP
There are three ways to add documents into Acumatica AP Document Recognition.
Establish a dedicated inbox in Acumatica: Set up a dedicated System Email Account (SM204002). Within the account, you can set up a rule to automatically add attachments into the AP Document Recognition system.
Click and drag a PDF: If you've received a PDF invoice, you can click and drag it into the Incoming Documents field in Acumatica to have it scanned into the system.
Acumatica Add-In for Outlook: Another option if you use Microsoft Outlook as an email manager is to add the Acumatica add-in. Click "Create AP Document" in the add-in tool while reviewing the document and it adds it to the system.
Among the three methods, perhaps the easiest is to establish a dedicated inbox in Acumatica using SM204003. Then, all you'll need to do is check the inbox, open the fields, review and correct any mistakes in the scanning process, and approve the invoice in Acumatica.
Document Recognition Comes of Age
Acumatica's advanced document recognition system may seem like magic, but it's actually the culmination of many years of work. Acumatica based its machine learning program off Microsoft's Azure AI platform, which offers users 200 cloud-based products to build their own set of tools. Using the AI system, Acumatica was able to build out their document recognition program into one that offers excellent time-saving features to its customers.
First Release, More to Come
This is the first AP document recognition rollout for Acumatica, so if you would like to see any new features or you detect any bugs, it's important to speak with your Acumatica resellers and let them know. Acumatica prides itself on listening to its customers and responding promptly to any feedback. They want yours about Acumatica AP Document Recognition (and other features of the system) so do take notes and share them with your reseller or directly to the company.
Emerald TC
Emerald TC provides software and consulting for manufacturing companies. We can help you choose the right accounting software, ERP system, payroll, or other software for your needs. Contact us or call 678-456-6919 for more information.