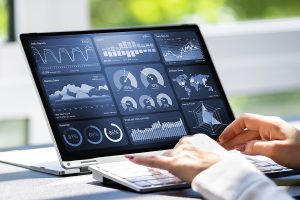 If your business has implemented a modern ERP, you have access to enormous amounts of data, including estimates, sales figures, accounts receivable, website traffic, social media management, inventory levels, customer interaction records, and much more.
With so much ERP data to sort through, it is essential to use business intelligence software to generate reports and dashboards. After all, gathering data is an important first step, but if you or the higher-ups in your company don't understand the data, it does you no good. Thankfully, modern ERPs like Sage and Acumatica provide powerful business intelligence, analytics, and reporting tools.
How to Combat Information Fatigue
Everyone reaches a saturation point when it comes to reviewing data—the point where their eyes glaze over and they stop processing information. This point arrives even sooner when data is hard to understand, analyze, or interpret.
Even the best dashboards will eventually cause data fatigue. One of the first steps to take before setting up any reporting or dashboards is to implement a standard reporting process and decide on a standard set of business reports that everyone agrees are necessary. These choices will reduce the number of reports or dashboards you must generate.
How to Build a Useful Dashboard
Communicate with Users
Now, how do you build a dashboard that will communicate the important data to executives or other stakeholders? In the first place, as with many tasks, it is important to start by learning the needs of the users. In this case, you'll need to understand what the viewers of your dashboard are looking for. Talk to the person or people you're building the dashboard for: what metrics do they care about? How do you measure the success of business reporting or intelligence? What data do you use in your daily work?
These questions will help you determine what to put on the dashboard as well as where to put it. For example, metrics your users access frequently should be front and center, while others can be part of drop-down menus.
Keep it Simple
As we discussed, information fatigue can set in without warning. Don't try to do too much on one dashboard: keep it to about one page. Remember, people often skip long paragraphs on a screen. Use simple icons and short text blurbs to provide important information in the most concise format possible.
Add Depth
While simplicity is a valuable goal for a business dashboard, you must strike a balance between simplicity and depth. Annotations, explanations, context, definitions, and visualizations may all be necessary to truly communicate what the data actually means. Remember, your users are looking to draw conclusions from the data, not just observe disconnected numbers.
Focus on Action
This recommendation builds on the other three: include only ERP data that will inform the user's actions or choices. The point of business intelligence and reporting tools is to translate large quantities of data into actionable insights. The right dashboard can make it easy for users to make informed decisions about their daily work, their direction of their projects, or even the future of the company.
Looking for a Shortcut?
If you don't have time to build a dashboard from scratch, your ERP likely has some great built-in dashboards and reporting tools you can easily put into place and customize. Acumatica and Sage both come with dashboards that are streamlined yet powerful enough to give you important business insights. Here at EmeraldTC, our team can help customize your ERP to collect, analyze, and report the most important data for you. Contact us today to learn more.