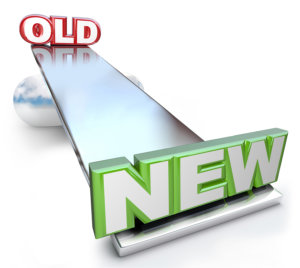 ERP software selection can be fraught with uncertainty. It's hard to give up something you're comfortable and familiar with for the new and unknown.
I once had a sweater that I literally wore until it fell apart. Holes developed under the arms; threads began pulling out. The hem unraveled. I stitched it up. I repaired every hole, every pill and tear until the sweater was more patched than original. I didn't wear it to work or even to the grocery store anymore, but I couldn't part with it. It fit like a comfy pair of socks and was so familiar it was like being enveloped in a warm, fuzzy blanket every time I pulled it out of my dresser drawer.
Eventually, however, I had to part with Old Faithful Sweater, notably when someone quipped about my vintage fashion choice.
I bet your current ERP software feels like my Old Faithful Sweater. Comfy, familiar. Sure, it's a pain in the neck when it comes to running reports. You must download CSV files, import them into Excel, and spend hours to make graphs, charts, and tables others outside of your department can understand. But, you don't want to give up Old Faithful Software just yet. Isn't it fine to just keep using what you have?
Well, vintage sweaters may be a fashion statement, but old software is a productivity killer. Let's look at a few signs that clearly point to the need for new ERP software and selection processes that make it easier to replace your system without feeling like you've just lost an old friend.
Signs You Need a New ERP System
Poor productivity: If productivity is down because time is being spent on manual tasks instead of letting the ERP system handle it, it might be a sign you need a new ERP.
Complicated processes: Complicated processes slow you down. If your old software makes you feel like you need a secret handshake and a password to enter every screen, or if streamlined processes like single sign-on are absent, it might be time to reconsider your software choices.
Retired support desk: If the company you purchased the software from retires its support function, it's no longer updating the software or providing support to its customers for that package. You're on your own, and if anything goes wrong with it, you might be stuck with a big problem.
Difficult customization: One sure sign of an aging ERP system is the difficulty of customization. If every time you need a new report you have to call in a specialist, it's time to rethink your system.
Manual reports and spreadsheets: Let's face it; ERP systems are supposed to make manual processes a thing of the past. If you're adding manual processes onto the automation an ERP provides, it's a sign the ERP you're using isn't doing its job adequately. You shouldn't need spreadsheets or manual calculations to get the information you need from your ERP system.
ERP Software Selection
When you feel ready for the ERP software selection process, there are best practice steps to enact to find the right software for your needs.
Review your processes: Review all current procedures and document how data currently move from department to department. Where can you streamline this?
Conduct a report audit: Audit your reporting requirements. Gather a wish list, then organize it into three columns: must have, nice to have, and probably not needed. Prioritize it from there into the reports that will benefit the most people in your company. This gives you a better idea of what you need in your new system.
Compare ERP options: Compare several ERP system features and benefits. Review these against the list of reports and processes you need to fulfill and then determine how well the potential systems under consideration will help you meet your needs.
Choose cloud software: Cloud-based ERP is the most flexible, cost-effective, and easy to implement solution. It's safe, secure, and easily expandable as your company grows.
Inquire about support options: Ensure that any bids you receive include support and training opportunities listed in the contract.
Contact references: Check references among any vendors under consideration.
Although it can be hard to give up the familiar, something new can be wonderful, too. The ERP software selection process takes time, but once you have your new system in place and experience the many ways it boosts productivity, you'll be smitten.
Emerald TC
When you need software for manufacturing companies, contact Emerald TC. We can help you choose the right ERP system for your needs and offer Sage, Acumatica, and other software packages for every type and size manufacturing company. Contact us or call 678-456-6919 for more information.