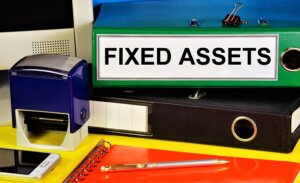 I remember the first time I encountered fixed asset tracking. I peeled the barcode sticker off of the back of an office chair, thinking it was left from when the chair was purchased. The next thing I knew, the facilities manager stood in the doorway of my office, wielding a barcode scanner that looked like a giant sci-fi laser gun and demanding to see my chair. Boy, did I receive a scolding when she saw that I'd removed the barcode!
Using barcodes to track fixed assets is nothing new, but the company I worked for at the time was way ahead of the curve when it came to tracking every asset including things like office furniture. Today, more companies are adopting fixed asset tracking and monitoring systems.
5 Fixed Asset Tracking Trends
Companies are fast realizing that all assets have value, even those that have depreciated back to zero. There's still a cost to replace items, even if it's as innocuous as the used office chair I was given when I first went to work for the company in my opening story.
Indeed, as more companies look for fixed asset tracking solutions, vendors are rushing to fill the need. Here are the top fixed asset tracking trends.
Small assets are being tracked: A local hospital is now tracking rolling carts of medical supplies in the emergency room. Although stocked only with commonly used items such as alcohol-based disinfectant wipes, bandages, gauze, and similar supplies, tracking the carts ensures that the hospital can monitor when each has been used and bill it to the insurance company appropriately. They can also track when each cart was sterilized and when it was returned to circulation. Such tracking seems like minutia until you consider how even the smallest details in a hospital setting can lead to big improvements. The same goes for schools and businesses. Both tracked large assets like copiers and printers, but now even small assets are tracked. Knowing where every item is and keeping track of it reduces losses and resulting expenses.
Intellectual property is now being tracked: As the world has moved to storing files digitally, companies have responded by using fixed asset tracking for digital files such as documents, photography, and other intellectual property.
More companies are tracking fixed assets: Software to track fixed assets has become increasingly affordable. As the price decreases, more companies can afford to add a fixed asset tracking system to their companies.
Asset software tracks maintenance, too: Like the example of the hospital cart's sterilization schedule, many companies are tracking the maintenance schedules for their items along with their location. This helps ensure items are maintained according to warranty requirements and preventative maintenance is being performed.
Asset tracking has become high-tech: Barcode scanners have moved from the cumbersome laser scanner that the facilities manager used to track my desk and chair to software that downloads onto any mobile device. The same method of scanning barcodes at the supermarket or scanning QR codes on a smartphone makes this new software very easy to understand and use. It's shortening the learning curve and helping more companies adopt fixed asset tracking methods faster.
Faster, Less Expensive Asset Tracking
Asset tracking has come a long way from expensive, stand-alone systems. Today's asset tracking systems are often cloud-based, using the internet to transmit data across multiple locations. Assets can be just as easily tracked in one building as in a dozen buildings. Facilities managers can note the location, maintenance schedule, and check-in/check-out schedule of a dozen or more items with the click of a button.
Fixed assets are valuable to a company even if they depreciate. Even small items like my desk chair cost a lot when several need to be replaced at once. By tracking maintenance, usage, and location of all items, companies can reduce their costs in many ways.
Emerald TC
Emerald TC provides software and consulting for manufacturing companies. We can help you choose the right accounting software, ERP system, payroll, or other software for your needs. Contact us or call 678-456-6919 for more information.