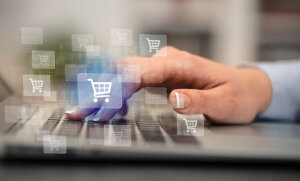 One of the most important ways in which ERP e-commerce can be used is to improve customer experience. Customer experience is one of the key ways in which companies can make an impact among their customers and encourage long-term brand loyalty.
The e-commerce market right now is hot and shows no sign of cooling. Experts predict online shopping will top $4.3 trillion in 2021, a number that may even be exceeded if the global pandemic continues. All signs pointed to rapid growth in e-commerce for 2021, but the pandemic pushed these estimates higher as more people turned to online shopping for both necessities and luxuries.
In order for e-commerce companies of all sizes to tap into this lucrative and growing industry, they must take into consideration two aspects of customer experience: The Amazon Effect and The Store Experience. Improving both by using your ERP e-commerce can make a lasting impact on sales and brand loyalty to push your company into strong growth.
The Amazon Effect
In 2012, Steve Weinberg coined a new term – "the Amazon effect" – to describe how the actions of a large international company could influence customer expectations. The Amazon Effect describes how customers' expectations of all e-commerce companies have been shaped by the global giant. As Amazon pushed the limits of shipping speed, order fulfillment, and product availability, customers began to expect similar service from Amazon's competitors. Today, customers tend to expect that all companies are able to provide the same selection, service, and speed as the mega-giant e-commerce company.
The Store Experience
The store experience is the shopper's overall online experience browsing, buying, and checking out from your online store. Making sure that every aspect of the store experience is fun, easy, and fast goes a long way toward boosting brand loyalty and encouraging repeat visits.
There are typically four areas of the store experience to keep in mind:
Discovery: How do shoppers find your online store? Search engine optimization or the ways in which you can help search engines discover, index, and share your web pages to interested people searching for information is one way in which customers can discover your e-commerce shop, but there are others. Social media, especially Facebook, Pinterest, and Instagram, offer multiple ways in which you can share photos and stories about your store's products to help customers discover your offerings. Just like locating your bricks and mortar store on a busy street can help improve the chances of passers-by dropping in and buying, so too can using search engine optimization and marketing get your shop on the "busy street" of the internet and encourage more clicks and purchases.
Store Experience: The store experience is what happens once people land on your store website. Just as when they walk through the doors of a bricks and mortar shop, when they walk through your virtual doors, it is important that you make the experience as pleasant as possible. The photos you share of your products, how-to videos, instructional text, chat boxes, help lines, onsite searches—all this can help people have a more pleasant store experience.
Payment and Tax: In a bricks and mortar store, companies pay a great deal of attention to the checkout software and experience. They make sure their products are clearly marked with the price tag and the checkout counter is clean and efficient. Your digital checkout, payment methods, and tax calculation must also be fast, accurate, and easy to understand and use to enhance your e-commerce store.
Follow Up and Customer Service: If you've ever had to return an item or experienced a problem with something you purchased, you know firsthand the importance of excellent customer service. Providing a seamless customer experience from the moment someone lands on your site to the time they check out, or contact you about a problem, is doubly important when the customer cannot be face-to-face with you. They need to find a fast way to reach you in the event of a problem and have the assurance you will resolve their situation promptly.
Using ERP e-Commerce to Meet the Amazon Effect and Provide a Great Store Experience
An ERP e-commerce system can make the customer experience a pleasure from start to finish. ERP e-commerce systems that integrate with your e-commerce shop provide many advantages:
Keyword-enriched product descriptions that enable search engines to find your website in many different ways while providing an optimal shopping experience on the site itself (the Store Experience)
Updated stock status so customers know precisely how many of a product are left in stock (the Amazon Effect) or if they're temporarily sold out
Product information that's identical on your e-commerce site, your call center, and other sales outlets (the Amazon Effect)
A smooth checkout experience with accurate sales tax calculations based on the buyer's location and the types of products purchased (the Amazon Effect, Store Experience)
Fast methods to find and communicate with a real person about any problems (Store Experience)
Follow up emails and aftercare, as needed (Store Experience)
There are many excellent ERP e-commerce platforms available.
Avalara
One way in which you can augment your ERP system is with Avalara AvaTax. This software works with Sage 100 and Acumatica to accurately calculate tax no matter what your customers purchase or where it is being shipped. With the complicated sales tax code throughout the United States, it's important to have tax software both you and your customers can trust. Avalara AvaTax fits the bill to create both the Amazon Effect and the ultimate Store Experience, augmenting and supporting a feature-rich ERP system.
Learn how trailblazing companies are winning in e-commerce by downloading the Digital Commerce Playbook by Avalara and PSFK.
Emerald TC
Emerald TC provides software and consulting for manufacturing companies. We can help you choose the right ERP system for your needs and offer Acumatica, Sage, and other software packages for every type and size manufacturing company. Contact us or call 678-456-6919 for more information.