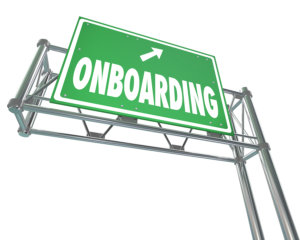 Sage HR software includes Sage HRMS and addon solutions including Sage HRMS HR Actions, Cyber Train, and Cyber Recruiter. Each offers support for different areas of human resources. Human resources software enables the HR department to recruit, train, and manage all staffing functions efficiently. They can also use the data from these systems to improve their work.
If that sounds familiar, it's because we've been doing that for years with ERP systems. Finance, accounting, operations, marketing, sales, production, warehouse, distribution, supply chain management, shipping, you name it, we track, measure, monitor, and use data to improve outcomes. If other departments in the company get automation software, why not HR?
Improving the Onboarding Experience with Sage HRMS HR Actions
Human resources often takes charge of an employee's onboarding experience, and Sage HRMS HR Actions can help make that experience smoother for both employees and department managers.
Onboarding shouldn't be confused with orientation. Orientation helps new hires get acquainted with people they work with and department managers, find resources throughout the company, understand the company's mission and values, and similar tasks. It typically takes place over a few days or weeks.
Onboarding differs from orientation in that it is more of a gradual process and incorporates a slow, thorough acclimation to the company's culture and values. It's part of how people became integrated into a company.
Throughout the onboarding process, the typical HR department keeps close track of the employee and how well they fit into the company. Managers may meet with employees to find out how they are doing and to see if there is anything they can assist with, but unless the manager is particularly skilled in human relations and an excellent communicator (which also means a good listener), these meetings often do little to further the onboarding process.
Onboarding by the Numbers
Unfortunately, the average company isn't conducting a thorough, onboarding process. Their onboarding methods aren't leading to employee satisfaction and retention. Instead, they are discouraging employees.
According to the CareerBuilder State of Recruiting and Onboarding report:
1 in 10 employees left a company because of a poor onboarding experience
37% of employees don't think their manager played an essential role in their onboarding experience.
51% of employees expect HR to check in with them regularly during their first year.
Are these things true for your company, too? You may not be sure how employees view onboarding. HR software can help you schedule, track, and monitor the onboarding experience to ensure it's the best it can be.
Personalizing the Onboarding Experience
HR software can help your company personalize the onboarding experience to make it more productive and positive. Personalization has become the buzzword lately, and with good reason. Throughout almost every industry, people are learning to expect personalization. They want experiences tailored to their own needs and learning styles, and with many software packages, that's possible in a business setting.
Sage HR software can be used to personalize the onboarding experience by setting up unique user profiles for each employee. These profiles can include:
Specific career goals, tailored to the individual
Training and courses selected to help the individual employee achieve their stated career goal
Requests from managers and HR for employee feedback on both orientation and onboarding
Personalized recognition, achievement, and commendations on projects and major milestones achieved
By tailoring this to the individual, employees feel recognized and empowered during the onboarding process. This may lead to higher job satisfaction and overall satisfaction with the company, which in turn leads to lower turnover rates. Personalization, it seems, plays a vital role in HR and onboarding.
Sage HR Software from Emerald TC
Sage HR software provides a comprehensive suite of human resources management tools to bring your HR department into the data revolution. Sage HRMS HR Actions, Cyber Train, and Cyber Recruiter integrate with Sage ERP and provide the same high-level of Sage support and service as other sage products. Adding these software packages to your company's technology can transform human resource management.
Emerald TC is a Sage Atlanta consultant offering Sage 100 ERP, Sage HRMS, and other products to help small and mid-sized businesses improve their productivity and efficiency. Please contact us or call 678-456-6919.