ERP distribution software can be used to perform many tasks. One task is to improve distribution channel efficiency. In a fiercely competitive environment, efficiency can be the difference between success and failure.
Importance of Efficient Distribution Channel Management
Distribution channels act as conduits through which products or services move from the producer to the end consumer. These channels connect manufacturers and consumers, facilitating the smooth flow of goods and services while expanding market outreach.
Efficient distribution channels help manufacturers better manage costs, logistics, and service. A solid distribution network can mean the difference between satisfied end customers and loyal brand adherents who return for more purchases and decrease your cost per acquisition. Failing to manage distribution channels can create customer churn and increase costs.
Evaluate Current Channel Performance Using ERP Distribution Software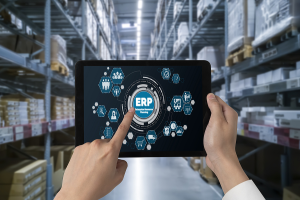 The first step towards improving distribution channels is measuring your current channel performance. ERP distribution software reports provide improved visibility into channel metrics. Using such reports, you can evaluate your current channel performance and identify areas for improvement.
Key performance indicators (KPIs) offer invaluable insights into their effectiveness. One pivotal KPI to consider is the order fulfillment rate. This metric provides insight into the percentage of customer orders fulfilled successfully within the stipulated timeframe. A high order fulfillment rate signifies that your distribution channels operate seamlessly, meeting customer expectations.
Delivery time, another critical KPI, reveals the duration between order placement and product arrival. A shorter delivery time can confer a competitive edge, as customers place a premium on prompt and efficient service.
Customer satisfaction serves as yet another vital KPI. This metric gauges the overall customer experience in purchasing and receiving products through your distribution channels. Favorable customer satisfaction scores signify that your channels align with customer needs and provide a positive brand experience.
Regularly monitoring and analyzing these KPIs ensures that your distribution channels adhere to the desired efficiency standards. Through performance evaluation, you can pinpoint areas for improvement, make informed decisions, and implement changes to optimize your distribution channels for success.
Improve Distribution Channels
Once you understand the KPIs and metrics, you can identify areas of improvement. Many manufacturers successfully use one or more of the following steps to improve distribution channels:
Simplify and streamline distribution processes to eliminate unnecessary steps and reduce cycle types
Conduct a comprehensive analysis of your current workflows to uncover bottlenecks and inefficiencies; create a remediation plan to address any identified.
Improve inventory management processes
Optimize existing software for inventory management, warehouse management, and distribution
Utilize automated order management systems to streamline order processing and fulfillment and reduce manual errors
Leverage advanced analytics tools to boost distribution channel efficiency
Analyze data related to order volume, delivery time, and customer satisfaction to improve channel distribution decisions
Resolve customer problems quickly and communicate clearly using omnichannel communication tools
Streamlining distribution processes and harnessing technology are highly effective strategies for enhancing distribution channel efficiency. By simplifying workflows, optimizing inventory management systems, and embracing technology such as automated order management systems and advanced analytics tools, you can elevate the overall efficiency of your distribution channels. These approaches enable you to reduce cycle times, eliminate bottlenecks, and make data-driven decisions, enhancing customer satisfaction and business success.
Emerald TC is an expert Acumatica and Sage consulting firm with over 23 years of experience. Our process is simple, but the results are dazzling. If you would like a consultation, we'd be happy to schedule a call. Please get in touch with us at (678) 456 – 6919.