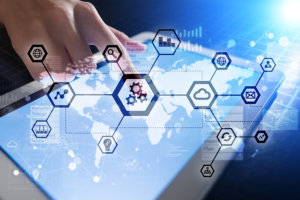 Wholesale and distribution automation is much in the news these days. Giants such as Amazon seem to open new warehouses every week, while big companies like WalMart insist that their wholesale and distribution partners use blockchain to track shipments. With no end to the surge in consumer demand, automation of warehouse processes is a must for successful business practices.
Warehouse automation typically focuses on several key areas such as improving:
Efficiency
Speed
Accuracy
Reliability
Expenses
It's no longer a question of when you will automate your warehouse, but how. Let's take a look at several things you must know about how to automate wholesale and distribution warehouses to achieve all five benefits listed above.
Physical Automation of Warehouse and Distribution Centers
Physical automation of warehouse and distribution centers refers to anything automated that limits human movement to improve efficiency, speed, accuracy, and reliability of pickers and packers. Bots that scoot along shelves using barcode scanners to identify products, pick them, and move them to a central picking and packing area is one such example of physical automation of warehouse and distribution centers.
The benefits are obvious. Not only can physically automated warehouses eliminate wasted movements, but they can also reduce the need for workers, replacing pickers with bots who never get tired, never need a lunch break, and never complain about the tedium of their jobs.
Physical automation isn't right for all warehouses, of course. It requires a high capital investment into the systems needed to build out the automation processes. Smaller goods may be more natural for people to pick from bins or shelves. Warehouses that require quick thinking and a flexible approach to order fulfillment are a poor fit for physical automation since people remain better at adapting to change than bots.
Include a Warehouse Management System for the Best Automation Outcomes
The key to successful physical wholesale and distribution automation isn't the right robot but the right warehouse management system (WMS). A warehouse management system is a software system that optimizes warehouse functions and distribution management. With the right WMS in place, automation is easier.
Q2 Mobile Warehouse from Escape Velocity Solutions works with Sage 500 to automate warehouse management systems for improved efficiency. The system enables you to tap into Sage 500's warehouse management module with true inventory transparency. Manage, monitor, and handle inventory better with an enhanced view of your warehouse stock.
Scanco offers mobile warehouse management with barcode scanning software that works with your smartphone for agile, nimble, and easy to use scanning. Scanco One is true warehouse management software with many attributes for both wholesale and distribution warehouses.
Scanco One includes:
Directed Picking
Directed Put Away
Wave Pick Sheets
Transfer and Rotate Inventory
Radio Frequency, Wireless, and Apple iOS Integration
Reserve and Release Inventory
License Plate Pallet and Case Pack Inventory
Scanco works with Sage 100 ERP warehouse automation for the best inventory management available.
Ready to Automate? Take These Steps
Before you begin your automation process, it's important to take a systematic approach to the transition from manual warehouse management to automation.
Assign a person or team to lead the automation charge. Give them the authority, tools, and resources, including the time they need to conduct the appropriate research into various warehouse automation solutions.
Analyze all costs of automation. Many companies focus on the initial investment but neglect to consider equipment or maintenance costs. A system such as Scanco, for example, may have lower equipment costs because it works on smartphones. It does not require the purchase of specific handheld scanners to use with the system. All costs should be factored into the cost-benefit analysis.
Consider any expansion or growth plans and look for systems that can accommodate any changes in the number of warehouses, distribution centers, or locations for your company.
Seek software that works with your existing ERP. Sage 100 and Sage 500 ERP are robust tools for managing business processes. Warehouse management software that works with them out of the box is an added benefit. Otherwise, you may need to invest in custom integration which adds time and costs to the project.
Warehouse and distribution center automation offers many cost-savings and improvements in efficiency and productivity. If you're ready to get started, please call Emerald TC today.
About Emerald TC
Emerald TC helps small businesses analyze their needs and choose the best systems for their companies. Contact us or call 678-456-6919 for more information about cloud-based ERP and other business productivity software and systems.