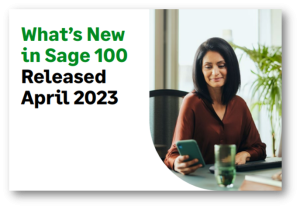 Good news for Sage 100 users: Sage 100 version 2023.0 offers dozens of new features and updates that are designed to simplify workflows, support accurate decision-making, and increase data security across the platform.
You can find an extensive list of updates in this video and data sheet, but here are some highlights:
Production Management has achieved complete parity with the legacy Work Order module and now offers capabilities that exceed Work Order's functionality.
This version enhances Accounts Payable Invoice Payment Selection to help reduce human error.
There have been other updates in Accounts Payable to help ensure compliance in protecting sensitive data.
The Inventory Requirements Planning module has met and surpassed the prior functionality of the Material Requirements Planning module.
You can now select serial numbers by range.
There is more historical data offered by default.
A "Recent Tab" option has been added to the Launcher Ribbon. This shows recent tasks accessed from File Menu, Home Tab, Web Content Tab, and Modules Tab.
You have much more flexibility to hide inactive warehouses, customer/vendor accounts, and zero quantity lot items.
Crystal Reports has been updated to version 2020.
Expanded Tooltips now include where the task is located.
The Amyuni driver has been updated for Paperless document printing.
Sage 100 Payroll Reminder
The Sage 100 Payroll release scheduled for December 2023 will not be compatible with the 2018 or 2019 versions of Sage 100. Customers using these versions will need to upgrade to at least the 2020 version to install the Payroll and tax form updates. Any customers who do not upgrade in time will not be able to generate 1099's, W-2's, and other tax reporting documents. In the future, Sage will have an n-3 support policy for payroll updates, which means that any future updates will only be compatible with the most recent and the three prior versions of Sage 100.
Sage 100 and Windows 11
Sage now recommends that any customers using Windows 11 should install the 64-bit version of Sage 100 in order to avoid a bug in the Daily Transaction Register. This fix requires all workstations and the server to be 64-bit.
Need help with your Sage 100 ERP? Contact us.