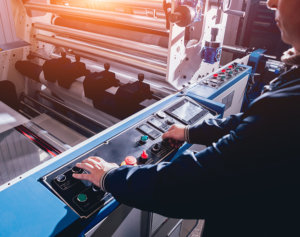 There are so many manufacturing metrics you can capture that prioritizing them can be challenging. One way to pinpoint essential parameters is to focus on one area of improvement over another. For example, you can concentrate on manufacturing metrics to improve gross profit. By establishing such metrics and then tracking and analyzing them, you can set and achieve significant financial goals.
Goals to Achieve
Set goals for safety, quality, and efficiency. These are the three goals that lead to higher gross profits and improved margins. By making your plant safer, the quality of goods better, and the company more efficient, you'll enhance the working environment, improve your company's reputation, and attract more customers and repeat business.
Use Acumatica Track and Monitor Metrics
If you do not currently use a manufacturing ERP system such as Acumatica, it's time to add one. Without an integrated enterprise resource planning system in place, you run the risk of lagging behind competitors who already harness and use the data from their manufacturing operations to improve profits.
Acumatica offers both cloud and site-based ERP systems, so you can choose what works the best for your manufacturing operation. For more details, see Acumatica ERP on the Emerald TC website.
Set SMART Goals
To establish useful target values, keep in mind the SMART principle. Goals such as KPIs should be specific, measurable, attainable, and time-bound.
Among the SMART principles that are vital for manufacturers is the notion of specific goals. Set quantifiable targets that are a stretch beyond the current values but not so much of a stretch that you cannot achieve them.
Establish Key Performance Indicators
The first step to improving gross profits is to establish key performance indicators (KPIs). You can't improve what you can't measure.
Useful manufacturing metrics to monitor include:
Overall Equipment Effectiveness (OEE): This metric combines provides insight into the \effectiveness of your equipment or production line.
Gross Margin (GM): Are the products made priced accurately? Have you accounted for direct and indirect costs? Are you examining the correct ratios for things like inventory versus production?
Safety Incidents (MOD rate): Consider how many health or safety violations or problems there may be for a given period.
Use ERP Systems to Create Data Visualizations
Data visualizations help people understand and remember goals and progress toward goals better than words alone. Use the ERP system's dashboard to view and track the data you've identified as necessary for KPIs. The right tool can help you save money, better align your manufacturing strategy with your business goals, and improve your ability to meet those goals.
Improve Processes
After analyzing the existing metrics, examine systems, processes, and people to determine which improvements add value to your gross margin. Then, make adjustments to implement such improvements.
Ask yourself:
Which improvements are likely to make the most significant impact?
How can we measure them?
Can this improvement be sustained?
Manufacturing metrics should be part of a process of continual improvement. This process will ensure you're responding to market trends and focusing on the most critical production challenges, but it'll also result in a better bottom line for your business.
Emerald TC
Emerald TC provides software and consulting for manufacturing companies. We can help you choose the right ERP system for your needs and offer Acumatica and other software packages for every type and size manufacturing company. Contact us or call 678-456-6919 for more information.