Sage Recruiting System Provides Tools for Successful Talent Acquisition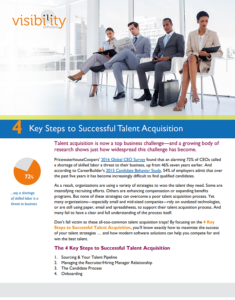 Recruiting top talent has become more difficult than ever as the labor market tightens. In fact, in a PricewaterhouseCoopers' Global CEO Survey, 72% of CEOs identified a shortage of skilled labor a significant business threat, up from 46% seven years earlier. To address this threat, businesses need to change recruitment strategies and processes.
Some companies are intensifying their recruiting efforts. Others are enhancing compensation or expanding benefits programs. But none of these strategies can overcome a poor talent acquisition process. Many organizations—especially small and mid-sized companies—rely on outdated technologies, or are still using paper, email, and spreadsheets, to support their talent acquisition process. Many fail to have a clear and full understanding of the process itself. Don't fall victim to these all-too-common talent acquisition traps!
Learn more about the following four steps by filling out the form below to download the white paper:
Sourcing & Your Talent Pipeline
Managing the Recruiter/Hiring Manager Relationship
The Candidate Process
Onboarding