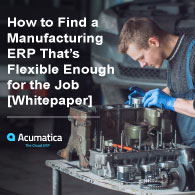 The Manufacturing's Competitive Needs and ERP Flexibility white paper by Acumatica will explain how to find a manufacturing business software that's flexible enough for the job, while supporting your agility against larger competitors.
In this new white paper, you'll learn:
Why simple point solutions are no longer enough for SMB manufacturers.
How manufacturing volume can affect your ERP needs.
How discrete vs. process manufacturing should factor into your purchase decision.
The most essential ERP features for your long-term growth.
Where manufacturers can find the most helpful cloud ERP resources online.