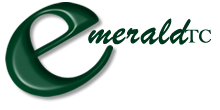 Emerald TC
Emerald TC is an experienced team of certified consultants, master developers, and CPAs who specialize in delivering the business management systems you need to grow. We specialize in helping clients in the manufacturing, distribution, and healthcare industries transform their business processes for greater productivity and profitability.
We provide sales, implementation, training, support, integration, and development services for Sage software, Acumatica Cloud ERP, and numerous third-party solutions. As Emerald TC, we have been selling and supporting Sage since 2000 and are a Diamond Partner and CEO Circle Winner. Emerald TC is also a Gold Certified Partner for Acumatica and a founding sponsor of the Southeast Acumatica User Group.
Are you achieving maximum productivity, growth and profits in your business? In order to compete effectively in today's environment, it's critical that you find the best resources available to streamline your operation.
How effective are your processes? Are they a liability or a competitive strength? In what ways can they be improved? Process improvements require a plan and strategy in accordance with the needs and long-term vision of your organization. Since process enhancements require some change, it's important to find a partner experienced in transforming processes with little to no downtime.
If you've considered upgrading operations in the past, then you're probably aware of the complexities involved. What changes need to be made? What's the best software for the organization? And how do you transition in a way that minimizes any lost productivity? These can be challenging questions to answer. And the fact that systems may not have performed up to expectations in the past doesn't help.
So, how valuable would it be to have a software partner who really understands your business? Most software partners don't focus on any particular discipline or sector. Their efforts are generally around the products they sell. Emerald TC specializes in helping mid-market, multi-location companies transform their processes and thereby increase productivity, growth and profitability. Serving the municipal areas of Atlanta, Georgia; Birmingham, Alabama; Nashville, Tennessee; and more; we focus on delivering end-to-end, customized solutions designed for the manufacturing, distribution, healthcare and financial industries.
This means that we serve organizations that are process-centric. We identify and implement the best applications that will enhance existing processes to operate optimally. And, we've developed our own design and implementation process that gets the system up and running quickly while minimizing any problems that might develop. This translates into a rapid return on your investment.
We'll get you the critical, up-to-date information you need precisely when you need it, by helping your company choose and implement a technology solution that will allow you to easily and seamlessly share information across the office, the enterprise—or the globe.
Our solutions are multi-faceted. Our process is simple.
The results are truly dazzling!