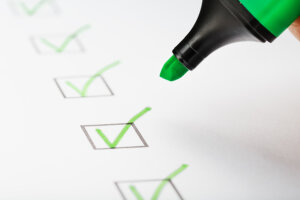 We've put together this ERP year-end checklist to help you close out your accounting year in good shape, ready to take on the new year with all systems "go." These five tips will help ensure a smooth year-end close so you can end the year on a positive note.
Five Step ERP Year-End Checklist
No matter whether you're using Sage or Acumatica ERP, these five steps will help ensure peak performance from your ERP system all year long.
Perform financial reconciliation: Reconcile bank account statements, credit card statements, invoices, and other financial information to ensure your year-end tally is accurate. Payroll reports should be reconciled, too.
Conduct physical inventory: Year-end is a great time to conduct a complete physical inventory of your warehouse. Many companies find their warehouses are slow immediately after the holiday rush, making it a great time to shut down temporarily to perform a complete physical inventory. Using a handheld barcode scanner or software from Scanco makes it even easier, as this software integrates seamlessly into your ERP system. Make sure all products are counted, included those in the returns and backstock area.
Review and update the chart of accounts: Periodically reviewing and updating the company's chart of accounts in the ERP system is a smart idea. Categories may need to be updated for the new year. You can do this immediately after year-end close, so you have time to discuss the potential changes with the accounting and finance personnel in your company.
Perform system maintenance: Cloud ERP systems may update in the background as needed, but site-based ERP needs periodic maintenance. Other systems in your company, including your website and productivity software, may require software updates, too. It's also a great idea to check your company's antivirus software to see if you need to update or upgrade it. Mark your calendar as part of your ERP year-end checklist to update all of your company's software.
Backup critical data: End-of-year is the perfect time to backup all your company's systems. Of course, you should back up data regularly, but performing a comprehensive backup at the end of the year and storing the data on an external device off-site is a great way to protect and preserve vital company information. Storing information on an external device off-site ensures that no matter what may happen at the workplace, be it fire or storm, you'll have critical data protected and ready to be used if necessary to get important systems back online.
Consider a Cyber Security Refresher
Cyber security has been in the news all year, and for good reason—cybercrime is on the rise. Cybercrime is anticipated to grow by 15% this year, and that may be a conservative estimate.
The end of the year may be a great time to review data security policies and training. When was the last time your company held a security training, for example, with all staff? Criminals have become even more clever in tricking information out of unwary employees, and new phishing schemes and other tactics can fool even the most sophisticated employees. Clicking the wrong link can be disastrous for your company. Consider adding to your year-end checklist the following:
Update or upgrade antivirus software.
Review and revise data security processes and procedures.
Conduct cybersecurity awareness and training refreshers.
Add what-if procedures and training in the event a data breach or other cybercrime occurs.
The best time to thoroughly review, revise, and update digital security is before a crime happens. While you're using the ERP year-end checklist, add a cybersecurity checklist, too.
Consider Performing an ERP Gap Analysis
Lastly, if you've been thinking of switching to a new ERP system, this may be a great time to perform a gap analysis of your current software. Are there any unmet needs? Areas where a different system may impact performance or information gathering?
Emerald TC offers several ERP systems for small and mid-sized businesses, with special consideration for manufacturers. We'd be happy to speak with you about your ERP needs and answer any questions you may have.
Emerald TC
Emerald TC provides software and consulting for manufacturing companies. We can help you choose the right accounting software, ERP system, payroll, or other software for your needs. Contact us or call 678-456-6919 for more information.