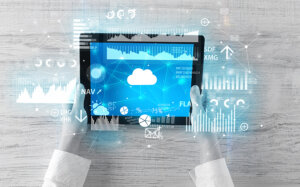 Accounting in the cloud has become more commonplace, with some pundits predicting that nearly all corporate accounting functions will take place via cloud computing services in the near future.
The statistics support this prediction. In 2020, 6 out of 10 businesses moved their company's technology services to the cloud. Businesses that conduct accounting in the cloud experience 15% year-over-year revenue growth. With so many global disruptions, ranging from natural disasters to the ongoing pandemic, if your company hasn't shifted to accounting in the cloud by now, it is likely to do so in the near future simply to keep up with others.
Why the move to the cloud? There are many benefits that companies derive from using cloud accounting software. These five are most frequently cited by small to midsized companies who adopt cloud software.
Why Move to Accounting in the Cloud? 5 Great Reasons
There are many reasons why companies are moving their accounting to the cloud, but for us, the following five reasons stand out. If you've been on the fence about moving to cloud accounting, perhaps one or more of these reasons will convince you that cloud accounting is efficient, safe, and cost-effective.
Anytime, anywhere access
Traditional desktop accounting software limits access to your financial data to your time in the office. Accounting in the cloud, on the other hand, enables anytime, anywhere access—as long as you have internet access, that is.
With many companies moving to hybrid work arrangements and allowing telecommuting some or all of the time, it makes sense to move critical functions like accounting to the cloud. Other reasons companies seek easier data access and shift to cloud accounting include multiple locations or offices, a mobile sales team, and similar reasons. Cloud accounting makes it easier for all to access and update their data in the accounting system.
It may seem counterintuitive that cloud computing offers better security than site-based systems, but the added layers built into cloud systems actually improve security. Frequent backups, for example, ensure that no matter what happens to one server, others can provide the data. Redundant systems, multiple physical locations containing servers, and similar setups ensure that no matter what happens, your data is protected. And, cloud systems invest heavily in cyber security, offering better protection against cyberattacks than most small business owners can afford. Cloud accounting systems offer excellent data security.
Better cost effectiveness
It can cost hundreds and thousands of dollars to maintain an on-site system. Not only must you purchase or license accounting software, but you'll also need to buy and maintain the proper hardware to run the system. Then, there's the cost of staff time and resources to have a permanent IT position to monitor, maintain, and update the system.
With cloud accounting systems, all this work happens at the cloud provider's business, not yours. You can run cloud systems on any internet-enabled device, which means your company can purchase the necessary laptops or desktops at the best cost. There is no need to maintain costly mainframes or networker servers. And, upgrades and updates are completed by the cloud hosting company, shifting even more work to them and less to you. It's a win-win in terms of both cost and time.
You may love your on-site legacy system, but once you try some of the newer cloud accounting systems, you'll be amazed at the new features they offer. Streamlined invoicing, easier reconciliation, new document management systems, and improved lookups and reports make completing accounting tasks faster and easier.
Cloud accounting software providers typically update their systems periodically, which means you'll always have access to the latest software. You won't need to pay exorbitant fees to purchase new software updates. The latest and best software will always be available once you shift to the cloud.
Integrates with other software
Another great benefit of cloud accounting is the integration features many cloud packages offer. Integrations ensure your cloud accounting software works well with other software packages such as office productivity suites, CRM, BI, and HRMS systems. It makes managing officewide tasks so much easier when the software works easily together, and it eliminates costly integrations and custom coding.
Ready for Accounting in the Cloud?
If you're ready to explore accounting in the cloud, we're ready to assist you in your search. Emerald TC provides software and consulting for manufacturing companies. We can help you choose the right accounting software, ERP system, payroll, or other software for your needs. Contact us or call 678-456-6919 for more information.