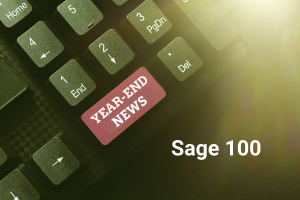 2022 is coming to a close, and it is time to think about year-end. Your best source of information is always the Sage 100 Year-End Center. If you will need our assistance with your W2s and 1099s this year, please contact us to make an appointment.
In the meantime, here is the latest Sage 100 news.
Sage 100 Versions
The minimum supported versions of Sage 100 for Accounts Payable 1099s are:
Sage 100 2022.0 – 2022.2 (7.10.0 – 7.10.2) plus IRD (release 12/15/2022)
Sage 100 2021.3 – 2021.5 (7.00.3 – 7.00.5) plus IRD (release 12/15/2022)
Sage 100 2020.5 – 2020.6 (6.20.5 – 6.20.6) plus IRD (release 12/15/2022)
Keep in mind that in October 2023, Sage will switch to TLS 2.x rather than TLS 1.0 or 1.1. Subscription versions older than 2018 must be updated.
Payroll Year-End and Company Backups
If you are using the Payroll Module, you will need to have downloaded Sage 100 Payroll 2.23.0 (released on December 15).
Payroll tax information is maintained in CLAD (Sage tax cloud), and system table changes will be pushed down via the Payroll Tax Update utility within the software.
After any installation of Payroll Tax Updates and Payroll 2.x updates, review your Company Tax Group, Tax Profiles, and Employees for changes to any tax features per documentation per the Payroll Tax Update Guide.
Now that the Payroll module keeps multiple years of history, there is less need to do a company backup. However, there are still occasions when you will want a backup—such as creating a test company or before purging history.
Here are the instructions to do a Sage 100 company backup.
Go to Library Master/Main Menu/Company Maintenance
Setup a new company code (C15, BKP, etc.) and Save it
Pull up the company code and click Copy in the upper right
Answer "Yes" to all questions
On the copy screen, choose the company you want to backup as your SOURCE. Choose as many modules as you want (but you MUST have GL and Common Information)
Verify one more time you have the copy going the right way … then proceed.
Contact Emerald TC for more information about a Sage 100 upgrade or Payroll module updates.